Soul Body Fusion, The Missing Piece for Healing and Beyond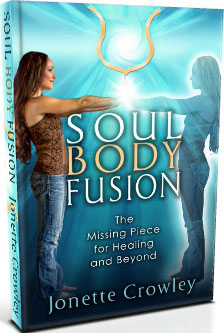 "Your soul is your connection to the richness and power of Universal Source. When body and soul are misaligned you can't be the divine human you are meant to be"

-- Jonette
Many of us are at odds with ourselves, stumbling along without the full power and presence of our spirit. Life's traumas, abuses and disappointments can cause the energetic frequencies of soul and body to be out of synch. Soul Body Fusion® is a simple, safe, and quick process you can do on yourself and others that re-aligns the body at a cellular level with the highest possible light it can hold. The changes are permanent and never-ending. This is a practical handbook with clear instructions and examples, plus the mystical and scientific background. Woven throughout are incredible adventures that will keep you turning every page. More than a how-to book — it takes you along on the journeys of a spiritual Indiana Jones!
"When the Eagle of North America and the Condor of South America unite, the spirit of peace will awaken on Earth. After waiting for millennial, many native peoples believe the time is now."

- an ancient prophecy
The book gives you the keys and inspiration to illuminate your own soul's path. It invokes Native American and Incan myths and legends of the lost continent of Lemuria. In Peru, the author discovers that an Andean shaman is her Soul's twin flame. With the help of spirit guides and mystical visions, she brings ancient knowledge and spiritual power to light. You will laugh and cry and grow.
Winner of the 2007 COVR Book Award!
Finalist in the National BEST BOOKS 2007 Award!
Soul Body Fusion® International Editions
Now Available in 10 Languages
The Eagle and The Condor International Editions
Now Available in 9 Languages